Affiliations and Memberships
At Digital Home Convergence Designs, Inc., we are continuously evaluating the latest technologies and products from the world's best suppliers in the digital home space. These include: consumer electronics, media services, climate and lighting control systems, smart-home equipment and related software.
We are committed to a higher standard of education and take great pride in ensuring our current knowledge stays up-to-date and doesn't go stale. We take every opportunity we can to continue our quest for as much product, technology and business education we can muster.
Hiring a certified professional like ourselves, gives you peace of mind - and the finest in custom electronic design and installation. Your home deserves nothing less.
We are members and affiliated with: Cedia, CEA, THX, TechHome and ROI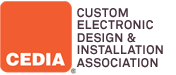 CEDIA Members stay abreast of rapidly-evolving technologies and are established, bona fide businesses, held to the highest standards of continuing education. Our members are trained professional contractors who are knowledgeable and proficient.
Adding custom home theater, multi-room audio, or automation is a wonderful investment that will add to the enjoyment and value of your dream home. But an investment of this size shouldn't be trusted to just any company. That's why you should consider a CEDIA certified member. CEDIA certified companies have met vigorous industry standards and have been formally educated and specially trained. These are critical steps to ensure that your investment in your home is not wasted. In addition, CEDIA member companies have agreed to the CEDIA Code of Ethics, perhaps the most highly regarded standard in the Electronic Lifestyles® industry.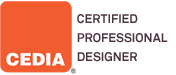 A CEDIA Certified Professional Designer is an individual who interfaces with clients and design and installation professionals. Also, a certified designer guides clients through the process of selecting the appropriate products and materials, in the design of integrated residential systems (including home automation, data, audio, video, home theatre, lighting controls, HVAC systems, alarm, telephone, cable and satellite television). This person has at least five years of related field experience.

CEA unites more than 2,000 companies within the U.S. consumer technology industry to participate in various projects, campaigns and web resources related to consumer electronics.
In addition to these projects, CEA members participate in:
Unparalleled market research
Networking opportunities at CEA events
Policy advocacy
Technical training
Standards committees
Member to member promotional opportunities
Duplicating studio-quality performance in the home isn't always easy. However, a THX Certified Professional is trained to be your technical resource in navigating the worlds of audio and video electronics. These experts in the field offer support on everything from product technologies and calibration to home theater design and acoustics. What other pros in the industry are saying about these professionals.
A THX Certified Professional with Home Theater 1 certification is well versed on the technologies and performance of THX Certified home theater products. With an introduction to home theater design and room acoustics, this level can assist you with selecting the appropriate AV products, basic room setup and product calibration.
A THX Certified Professional with Home Theater 2 certification has advanced knowledge in room acoustics and design, wall treatments and isolation, and AV hardware selection and placement. At this level, you will find a professional with the necessary skills to design and setup your complete home theater audio system.
A THX Certified Professional that has attended the THX Video Calibration 1 Workshop has an in-depth understanding of the critical calibration process for achieving the best possible picture quality in video and projection devices — standards set forth by THX.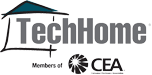 CEA promotes the value of Electronic Systems Contractors (ESC) and educates consumers on the benefits of working with an ESC when installing home technologies. TechHome ESCs design and professionally install the whole-home networks that are becoming standard in today's digital home.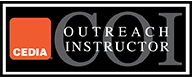 Cedia Outreach Instructors (COI's) are CEDIA Members who have been peer-evaluated and have successfully completed the necessary requirement to deliver CEDIA-developed industry partner education.
Digital Home Convergence Designs, Inc. as a CEDIA member, and an approved COI, is proud to offer continuing education credits to members of the following partner organizations:
CA License # 963950 — (831) 240-4494 —