Mission Statement
Digital Home Convergence Designs' unequivocal focus is to provide advanced, yet simple-to-use media distribution and home automation solutions that hide all the complexities of the underlying technologies.
Latest News About Us
To our clients:
Thank you for your continued loyalty and business. We appreciate the trust you have graced us with, and promise to continue placing you first and foremost with all your electronic needs.
Aug, 2016

We are very excited to add the Doorbird product-line to our roster, making the Connected Home a reality. You can now access your home at the tip your finger, no matter where you are.
April, 2012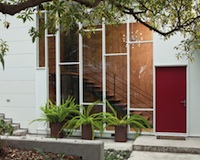 We are happy to have been involved in the first residential Platinum LEED certified home in the Monterey/Carmel area. The owners wanted an uncomplicated and easy-to-use system for their home. The Control4-based system manages the Lutron lights and shades, the radiant heating and fan coils, the alarm, and of course the audio/video system - simple, elegant and unobtrusive.
For more, read the entire Dwell Magazine - April 2012 article.
April, 2011

We are very proud to announce the formation of The StreamLife Group , a new business alliance comprised of four Monterey Peninsula based companies specializing in packaged and custom audio, video, home theater, home automation and control systems for the residential and commercial markets. The group consists of StreamLife, Digital Home Convergence Designs, and Sound Works. The purpose of the alliance is to become the Monterey Peninsula's premier systems design and installation firm. The StreamLife Group's experience showroom is located at 560 Fremont St. in Monterey (

Map It) — Complete Press Release — (289kB).
September, 2010

Carl Gadener added the CEDIA Certified Professional Designer certification to his credentials. A certified designer guides clients through the process of selecting the appropriate products and materials, in the design of integrated residential systems (including home automation, data, audio, video, home theatre, lighting controls, HVAC systems, alarm, telephone, cable and satellite television). This person has at least five years of related field experience.

Carl Gadener expanded his knowledge-base by attending the THX Video Calibration 1 Workshop at CEDIA Expo 2010. It further expands our expertise regarding the critical calibration process of achieving the best possible picture quality in video and projection devices - Standards set forth by THX.
August, 2010

Digital Home Convergence Designs, Inc. expanded our Lutron certifications with RadioRa 2, a wireless light control system that provides convenient and intuitive control of lights, shades, audio-visual devices, and temperature in a single room or throughout a whole home.

We are very excited to add the Sonos Multi-Room Music system to our arsenal of products. It is arguably one of the best-engineered multi-room audio systems in the market.
June, 2010

We are very excited to add the TiVo line of Digital Video Recorders (DVR). TiVo defined the DVR market segment and coined the phrase "to Tivo something" which is now part of the pop-culture vernacular. It has by far the best user experience of any DVR on the marketplace and the standard that other vendors aspire to.
May, 2010

Digital Home Convergence Designs, Inc. launches a new Eldercare Solution.

Shoshanna Lefcourt became a volunteer within the CEDIA organization May, 2010. As an active member and volunteer she will be working hard to further the industry, not only benefiting the association and the professionalism of its membership, but ultimately all of the clients utilizing the organization.

Like Google did in February, we have decided to stop supporting Internet Explorer 6 (IE6) on our website. It takes way too many resources to work around the many issues plaguing this buggy and non-standards browser. To properly use this website, please upgrade to IE7 or IE8, or, just use Firefox, Chrome, or Opera.
Mar, 2010

We are very excited to add the Sunfire product-line to our roster. Bob Carver, the owner and a legend in the audio industry has created some very innovative amplifiers, speakers and subwoofers. His products have to be experienced first-hand to really be appreciated.
To engage much closer with our clients, we have now incorporated social media on our site. Please make sure to follow us on our Facebook fan page, our YouTube channel, and our Tweets.
Feb, 2010

We made major improvements to our site for all you smart-phone users (especially iPhone and Android). No need to use a different URL — it is automatic, we do all the work for you.
Nov, 2009
Digital Home Convergence Designs, Inc. 2009 Christmas Holiday TV Ad Space in Pacific Grove, CA
Oct, 2009

Carl Gadener added his THX 1 & 2 certifications to his credentials.
Digital Home Convergence Designs, Inc. ribbon cutting in Carmel-by-the-Sea, CA
Jan, 2009
Digital Home Convergence Designs, Inc. moves its main offices to Carmel-by-the-Sea, CA
Dec, 2007
Digital Home Convergence Designs, Inc. becomes incorporated.
Aug, 2007
Digital Home Convergence Designs is founded.
CA License # 963950 — (831) 240-4494 —

Last Updated: May 23 2010 18:38:27