Training and Education
At Digital Home Convergence Designs, Inc., we are committed to a higher standard of education and take great pride in ensuring our current knowledge stays up-to-date and doesn't go stale. We take every opportunity we can to continue our quest for as much product, technology and business education we can muster.
Hiring a certified professional like ourselves, gives you peace of mind - and the finest in custom electronic design and installation. Your home deserves nothing less.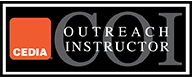 Cedia Outreach Instructors (COI's) are CEDIA Members who have been peer-evaluated and have successfully completed the necessary requirement to deliver CEDIA-developed industry partner education.
Digital Home Convergence Designs, Inc. as a CEDIA member, and an approved COI, is proud to offer continuing education credits to members of the following partner organizations:
Brown-Bag Educational Seminars
Digital Home Convergence Designs, Inc. offers several brown-bag educational seminars, or can work closely with architecture and design firms to design a custom training package that suits your needs.
To schedule brown-bag educational seminars for your firm or company, AND earn credits at the same time, contact us at .

Summary of available courses - Aug 2015
CA License # 963950 — (831) 240-4494 —